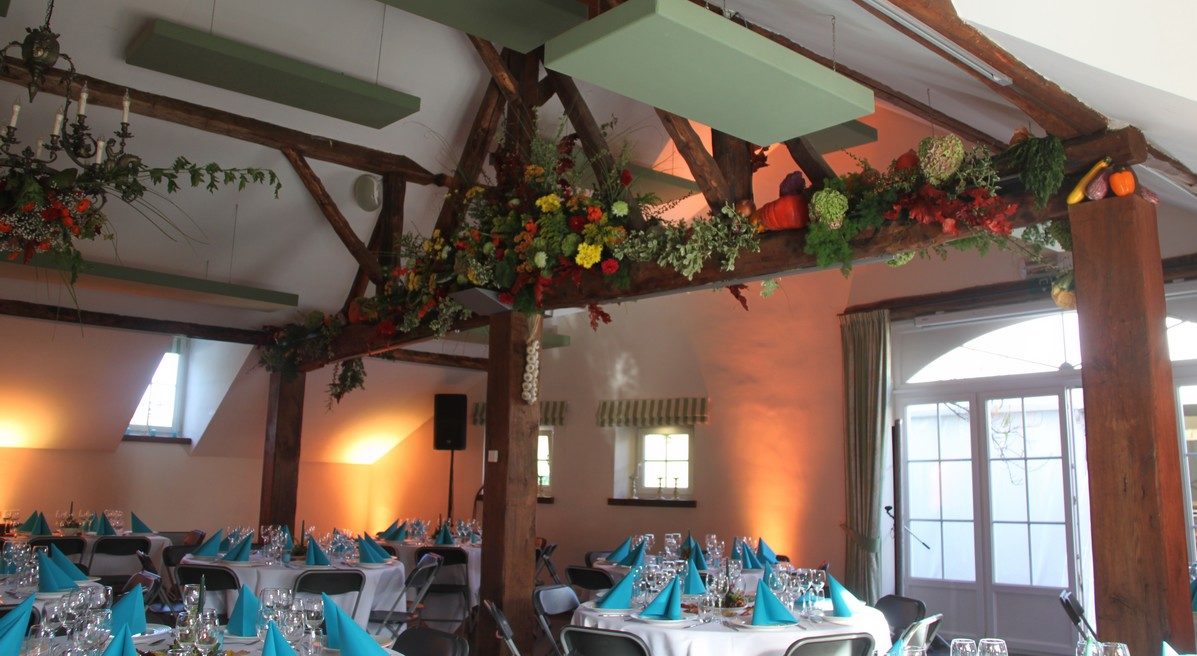 Welcome at the "Salle du Géant" ("The Giant Room")! It has been designed to suit the organisation of receptions, cocktails, weddings, dinners, etc.
Part of the "Ferme de la Carrière", besides the "Al Pierîre" guesthouse, the Giant Room is in the middle of the nature and its doors can be opened to enjoy our country.
You are free to choose your caterer. The Giant Room is equipped with lighting and sound material.
A smaller reception hall, the "Salle du Nain" (the Dwarf Room) may be rented for your smaller seminars or meetings. When you book the Giant Room, you automatically rent the Dwarf Room.
Should you like to see a map of the Giant Room and its annexes, click here: Plan of the Giant Room. The light grey rooms are those at your disposal.
Our experience proves us that being accommodated just besides the reception hall is very comfortable. Therefore, should you like to organize a "noisy" celebration during the evening (wedding, dancing party, etc.) in the Giant Room, we will automatically suggest the renting of Al Pierîre.
This will give you the exclusivity of our facilities!
For more information or any booking, please get in touch with us, through our contact page: see you soon!
♠♥♦♣
A few words about the history of the Giant Room…
The Giant Room, it's quite a strange name, isn't it? It's the memory of Jean Bihin, who was born a few meters away from the Ferme de la Carrière, in the "Ferme du Chaffour" where he lived for the Belgian part of his life. The majority of the stones used to build the Giant Room come from the quarry of Jean Bihin, who, prior to live an itinerant life, worked as a quarryman.
Jean Bihin was a real giant, since he was 2,43m tall! This man, who became a living legend, is however real. This giant ate a complete veal as one meal! Troubadour in Wallonia, drum major in the Dutch army, coachman of an Italian duchess, circus artist: this versatile hercules was kind and quiet!
His giant "puppet" has been created "Chevalier de la Commune de La Reid" by the Lord Mayor of Theux, Jean Gillet, le 30 mai 1976.
Books have been written about Jean Bihin, the Giant. You can find them at the Syndicat d'Initiative (Tourist Office) of La Reid.